Mr. Craig Damrow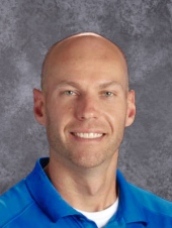 About the Teacher
Mr. Damrow believes that physical fitness plays an important role in the lives of students. He advocates that children who are physically active are not only healthier, but learn more effectively in the classroom as well. Mr. Damrow recognizes that daily Physical Education provides the students at Concord Elementary School the opportunity to grow physically, emotionally, socially and mentally.

Mr. Damrow also believes the movement patterns, sport skills and fitness components embedded in the Physical Education curriculum provide students with opportunities to succeed in a variety of activities. This success, coupled with the wide range of physical skills learned, provides the students with physical fitness habits that can last a lifetime.

Mr. Damrow currently teaches Kindergarten through Fourth Grade Physical Education. He also is the Head Cross Country Coach and Varsity Girls Basketball Coach at Cass Junior High School.