Mrs. Jane York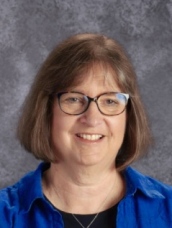 About the Teacher
Early Childhood Speech-Language Pathologist Mrs. Jane York has earned a Bachelor of Arts in English from Valparaiso University, a Master of Science in Communication Sciences and Disorders from Rush University and a Master of Arts from Concordia University Chicago. She holds the Certificate of Clinical Competence from the American Speech-Language-Hearing Association and Illinois State Certification and Licensure in Speech-Language Pathology. She joined Cass School District 63 in 2000.

Learning to communicate effectively is one of the greatest joys and challenges of the early childhood years. It is Mrs. York's goal to assist all children to maximize their communication potential. To meet this goal, Mrs. York works with the Blended Prekindergarten teachers to provide language-rich activities within the curriculum to promote vocabulary, speech, language, phonemic awareness and social communication skills. Additionally, Mrs. York provides direct intervention with children who have an Individualized Education Plan for identified Speech or Language delays or disorders. Mrs. York also provides screenings, formal evaluations and Speech/Language therapy to children from age three through Kindergarten within Cass School District 63.

Parents with questions regarding Early Childhood Speech/Language services in Cass School District 63 or about their child's Speech/Language development specifically may email or phone Mrs. York using the contact information on this page.