Mrs. Filomena Manna DeChiara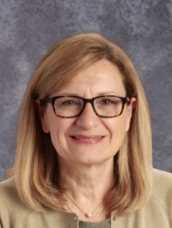 About the Teacher
Mrs. Manna-De Chiara has been an English Second Language teacher at Concord Elementary School, since 2011. Before she became a full time teacher, she held positions as a Literacy, Special Education, and English Learner teaching assistant. In addition, she was co-director of the B.A.S.E program for six years in District 63.

She maintains the teaching philosophy that "all children can learn," and her goal is to build on the foundations that are intrinsic in each of her students, whether they are English speakers, English Learners, culturally diverse, or students with an Individualized Educational Plan (IEP). She believes that the personal experiences and previous knowledge that children bring to the classroom initiate the most fulfilling lessons.

Mrs. Manna-De Chiara earned two Bachelor's degrees from Trinity Christian College in Elementary and Secondary Business Education. She also received two Master's degrees from Concordia University Chicago in Curriculum and Instruction with an English Second Language Endorsement and the Principal Preparation Program.

When she is not teaching, Mrs. Manna De Chiara enjoys cooking, traveling, and spending quality time with her grandchildren. Teaching has always been her ambition. Hence, her favorite quote is, "Choose a job you love, and you will never work a day in your life," (Confucius).